Specify compatible chemicals for concrete to maximize your structure's useful life and aesthetic integrity. Nox-Crete chemical concrete solutions are formulated to achieve 100% compatibility, which improves the overall performance and architectural beauty of the structure. This System Approach also minimizes risk for your entire project team and solves common field problems faced by concrete contractors.
Nox-Crete is proud to employ some of the industry's most technically trained experts on concrete construction chemicals. Nox-Crete's technical staff consults on design challenges; and can advise on application, formulation, installation, and long-term performance of our products. Specify the right chemicals to deliver durable, resilient concrete construction.
Contact Us to request a quote or receive immediate technical support on a project.
Design Considerations for Densified and Architectural Concrete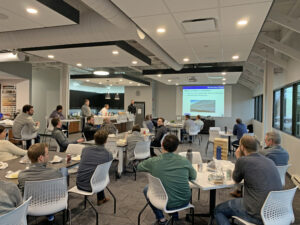 AIA Provider #: 404109624
AIA Course #: 1004567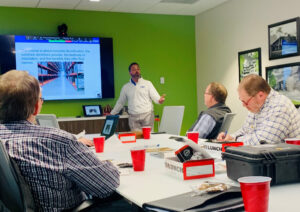 Flooring Division Manager; Lee Nabb and Nox-Crete are proud to be offering FREE AIA Continuing Education Courses and Lunch & Learns for the American Institute of Architects Continuing Education System (AIA CES). Join Nox-Crete concrete experts as they guide you through design and specification considerations for densified and architectural concrete floors. In this presentation, you will discover:
-The importance of curing & densifying concrete
-The concrete problems densifiers solve
-Densifier generations and application methods
-Testing for abrasion resistance and long-term durability
-Concrete enhancements beyond densifiers
This fun, fast-moving and informative course includes product information to get you the facts on liquid floor hardeners and densifiers, LEED compliance and improving your construction schedule.
Nox-Crete's concrete expert; Lee Nabb and the Nox-Crete team present these courses either in-person or Zoom. These courses offer 1 CEU / HSW credit as granted by the AIA. Schedule your AIA continuing education course today!
We invite the architectural, engineering and specifying communities to take advantage of this informative resource!  As one of the leading manufacturers of densified/polished concrete flooring chemicals, it is important to us to contribute to the continuing education efforts of the American Institute of Architects.
For questions or to schedule Nox-Crete's AIA Continuing education courses, please contact Flooring Division Manager, Lee Nabb at 402-806-8083 or by email at lnabb@nox-crete.com.
Compatible Chemicals for Concrete

- Architects and Engineers

MasterSpec specifications are available for many of our products.

MasterSpec Division 3: CONCRETE

Silcoseal is the world's first chemically active tilt-up cure and bondbreaker and recognized today as the industry leader worldwide. Silcoseal is specified in MasterSpec Section 034713, Tilt-Up Concrete.

Silcoseal 2000F water based Tilt-Up cure and bondbreaker
Silcoseal Select water based, chemically active cure and bondbreaker

Duro-Nox brand of floor densifiers chemically react with concrete to permanently harden, densify, seal and dustproof floor slabs. Twenty (20) Year Warranties available. Duro-Nox densifiers are specified in MasterSpec Sections 033000, Cast-In-Place Concrete and/or 033543, Polished Concrete Finishing. Fully compatible with Silcoseal bondbreaker.

Duro-Nox sodium silicate
Duro-Nox LS lithium silicate
Duro-Nox LSC lithium silicate for colored concrete


Duro-Polish brand of synthetic polymer floor gloss enhancers and stain protectant provide polish; stain and UV protection. Duro-Polish floor polishes are specified in MasterSpec Sections 033000, Cast-In-Place Concrete and/or 033543, Polished Concrete Finishing.

Durable, beautiful Duro-Floor Color 3-part system for diamond ground and polished concrete floors includes: Duro-Color dye, Duro-Nox LSC and Duro-Shield.

Res-Cure DS offers excellent curing capabilities and stain protection using a dissipating styrene resin formulation that is fully compatible with Nox-Crete's Silcoseal line of bondbreakers - allowing for a clean separation of Tilt-Up panels.

Nox-Carb is a penetrating, breathable, water repellent sealer/stain that offers maximum protection for exterior vertical concrete surfaces. Ten (10) Year Warranties available.

MasterSpec Division 7: THERMAL AND MOISTURE PROTECTION

Dynaflex brand of semi-rigid joint fillers protect saw cut crack control joints from shoulder damage and debris ingress. Dynaflex joint fillers are specified in MasterSpec Section 033000, Cast-In-Place Concrete, and/or Section 079200 Joint Sealants. Fully compatible with Duro-Floor Classic.
Dynaflex JF-85 epoxy formulation
Dynaflex 502 polyurea formulation
Guide Specifications/Submittals/Document Library
Nox-Crete provides guide specs on several compatible chemicals for concrete. Check them out on the product pages or within the Submittal Tool. Use this tool to bundle multiple product documents into a single, zipped file that can either be downloaded to your local computer or emailed from the site.  Reduce time and frustration searching for every product and downloading one file at a time. Try the Submittal Tool.
Schedule a Lunch & Learn
We have a technically trained team that would be happy to provide CE training for your firm. We have a series of training on compatible chemicals for concrete, chemical systems and more. Contact Us to set up a time and topic.
Sign Up for Technical Project Profiles
Technical Project Profile Sign Up
Please fill out form to sign up for Technical Project Profiles from Nox-Crete chemists and segment managers. These will be emailed to you.