Learn about removing old acrylic sealer with acrylic stripper blanket systems, look for Craig Coppersmith's article, "Strippers, Sealers and Systems" in the April 2018 Issue of Concrete Decor magazine.
Read the full article here!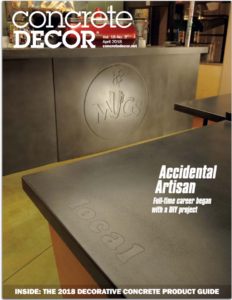 Right now, much of the country is experiencing a never-ending winter. But the days are getting longer and the temperatures will (eventually) rise. It won't be long before you're spending more time outdoors. Does your patio need some freshening up? It may be time to think about removing old acrylic sealer, especially if it's been several years since its application.
Acrylic sealers will appear blistered, chalky and cloudy after several years, but stripping them can be messy, laborious, and even hazardous depending on the method you use.
A blanket stripper method makes removing the acrylic sealer from your patio easy, clean and effective. In just 3 steps, you can remove the old, worn-out acrylic sealer and be ready to reapply a fresh coat. Our very own Deco-Peel blanket system is an easy-to-use, highly effective stripper for acrylic sealers.