Omaha, Neb., June 18, 2019 – Lori Reid has been named President of Nox-Crete Products Group, Inc., a promotion that comes three years after she joined the team as Chief Financial Officer in 2015.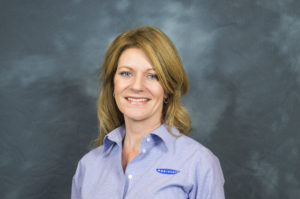 In her former CFO role with Nox-Crete, Reid focused on key metrics, development of financial and operations strategy, asset preservation and financial reporting. She has also played a key role in the company's transition from a privately-owned, family business to an employee-owned company in 2015.
In her new role as President, Reid's focus will shift to developing and implementing the company's strategic vision, adapting as the industry and customers' needs continue to evolve.
Prior to joining Nox-Crete, Reid served as Financial Controller for Advanta US (Dallas, TX), Vice President of Business Development and Administration for American Star Energy & Minerals (Amarillo, TX) and Accounting Manager for McCleskey Harriger Brazill & Graf (Lubbock, TX).
Nox-Crete CEO Michael Linn is confident that Reid's role will help usher in Nox-Crete's latest stage of development. Linn will retain his CEO title and assist Reid as she takes on more responsibility in her new position.
"We see this as an important change as Nox-Crete moves into its next chapter of growth," Linn said. "We've moved from a family-owned business to an ESOP company. Lori's past experience with both our company and in the business world make her the ideal candidate to help Nox-Crete continue to grow and offer customers innovative products."
Reid views the role as an opportunity to leverage the Nox-Crete's strong history and reputation for excellence to reach the next level.
"I look forward to building upon Nox-Crete's solid foundation as we adapt to ever-changing market conditions and enter into the next phase of our company's growth," Reid says. "With our committed employee owners, superior technical expertise and industry-leading technology, we will continue to be the benchmark for providing cutting-edge solutions to our customers' needs."