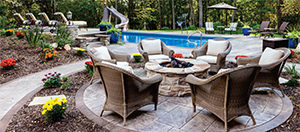 The weather is warming up and it's time to take a good look at your client's pool deck, backyard patio, outdoor walkway or other exterior textured/stamped concrete. Is the decorative concrete acrylic sealer faded, chalky, yellowed or worn out? Don't reapply another layer of sealer – or you'll risk bubbling, peeling and blistering. Strip the sealer first, then apply a fresh coat of acrylic sealer for beautiful results.
Nox-Crete Sealer Strippers Are Safe and Effective

In the past, removing acrylic from concrete required the use of hazardous solvents like xylene. The solvents used in traditional strippers (xylene, toluene and mineral spirits) are considered hazardous by the EPA and OSHA. Any spent residue resulting from the use of these solvents is strictly regulated and must be disposed of through a licensed disposal facility.
Xylene is flammable, and causes skin irritation. Inhaling xylene vapor causes acute symptoms such as: headache, dizziness, nausea and vomiting. Long-term exposure may lead to headaches, irritability, depression, insomnia, agitation, extreme tiredness, tremors, impaired concentration and short-term memory loss.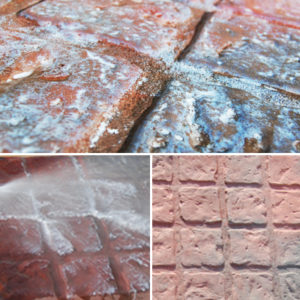 To combat the use of these hazardous solvents, Nox-Crete's chemists combine a proprietary blend of biodegradable and environmentally-friendly solvents and surfactants. Nox-Crete's decorative concrete sealer strippers are xylene-free and safe to use. The solvents used in Nox-Crete's decorative concrete sealer strippers are 100% biodegradable, nonhazardous by EPA definition and are safe for disposal in any storm water or sanitary sewer system.
How To Choose The Right Sealer Stripper

The powerful, biodegradable coating stripper penetrates and softens decorative concrete acrylic sealers. Deco-Strip can be removed with a power washer to restore decorative concrete back to its original unsealed condition. Use a scrubbing machine to speed the stripping process of multiple layers of decorative concrete sealer.
Applications:
Large areas
When you have time to wait for concrete to dry after power washing
In areas where you can push acrylic residue into grass or street
When you need to remove multiple layers of sealers
Advantages:
Long working time
Can use scrubbing machine to speed stripping process
One-application to take sealers off
Tips/Tricks:
Acrylic resin becomes a stringy/sticky bubble gum-consistency blob during pressure-wash
Push the old sealer into a "rope" line in collection area
Shovel/scoop larger accumulations of old sealer and disposed of in trash receptacle
Deco-Peel is a two-part system, which includes 5 gallons of stripper and an engineered fabric blanket which covers 400 square feet. The blanket is cut to fit around curves, corners and hard-to-reach areas; then saturated with the stripper. The acrylic resin is absorbed and dries into the fabric blanket, which can then be peeled up and thrown away. The margin of error in application is greatly reduced with this simple system.
Applications:
Decorative stamped concrete areas around sensitive landscaping, sides of homes or pools that are susceptible to splatter damage
When it's not expedient to use rental equipment, such as a power washer
Advantages:
Fast-acting – less than two hours
No need to wash concrete after stripping process is complete
Easy to use