The BridgeWay Station is a new urban village development along I-385 in the City of Mauldin, S.C. Greenville developer Phil Hughes is building the project as over 1 million square feet of mixed-use space featuring new apartments, offices, shopping, dining, lodging and entertainment.
THE QUICK DETAILS:
Greenville developer Phil Hughes is planning an urban village called BridgeWay Station spanning 40 acres along I-385 in Mauldin, just south of Butler Road.
Project GC: Harper General Contractors
Tilt Contractor: CBM Concrete
The village will feature residential spaces, offices, shopping, dining, lodging and entertainment.
Restaurants will include Poogan's Southern Kitchen, Belladina's Italian Market, and Cohesive Coffee.
This will be the first phase of a larger development.
Estimated village cost: $100 million
Estimated construction time: 18 months
Learn more about BridgeWay Station Here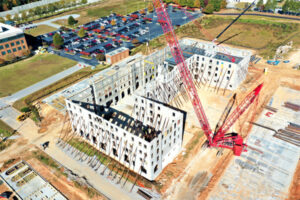 Silcoseal Select was used on the tilt wall panels for block A of BrickWay Station. We had a Q&A with Tilt Contractor; Cody Branton from CBM Concrete.
1. Which product/products of ours were used on the project?
On this project, we only used the Silcoseal Select bondbreaker.  We typically will use either HSC or LSC to cure our slabs but we were only tasked with the walls on this project and the SOG did not require a densifier/hardener.
2. What problems were you trying to solve by using our product?
Our recommendation for the use of Silcoseal in lieu of a competing product was due to the fact that our panels were going to be 16" thick with extensive rebar mats, we needed a reliable bondbreaker.  Due to the need for reapplication using a different product brand with any amount of rain, I felt that the reapplication of whatever material we used would be difficult given the density of rebar in the panels. payid casino This resulted in us convincing the GC that Silcoseal Select would be the better choice in order to avoid a stuck panel and end up with a better result.
3. What made our product stand out from other options?
Its sustainability in weather conditions, especially during the winter months.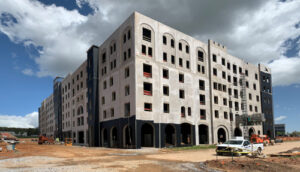 4. How did our product help make your project successful?
Avoided any stuck panels and the aesthetics that resulted in not having to over apply turned out great.
5. What's the main reason you'd recommend our products to other builders?
Because its worked well for us on every single project that we have used and the only issues we have had is when we've been forced to use a different material due to distributor supply.
Photos/Video Courtesy of CBM Concrete.
If you'd like to learn more about why you should be using Silcoseal Select on your next Tilt-Up project. Contact Nox-Crete Tilt-Up Division Manager; Derick Rainey at 402-680-8145 or by email at drainey@nox-crete.com.