Nox-Crete was asked to consult on a difficult decorative concrete sealer stripper project. A 3500 square feet stamped pool deck had been sealed and resealed over time with up to five coats of an acrylic sealer with 25% solids. No stripping had been done between layers.
This thick film buildup had created an impermeable barrier that trapped water vapor coming up from the subgrade. Pressure from the water vapor caused the sealer to delaminate from the concrete, which turned some areas white in color. In addition, the thick film had suffered UV damage, and appeared dark green.
Test Methods to Strip 5 Coats of Decorative Concrete Acrylic Sealer
A test was conducted to determine the best method to remove the old coats of sealer. The test was scheduled for a clear day with a temperature of 84-degrees Fahrenheit. There was a slight 7 mph wind and 52% humidity.
Three methods were tested to remove the thick film of decorative concrete acrylic sealer:
Aro-Peel stripper system with an engineered cellulose blanket was applied to a small area next to the house. Aro-Peel decorative concrete sealer stripper blanket system is sold in Canada, and a similar product—Deco-Peel—is sold in the United States.
Deco-Strip sealer stripper was rolled on a large section, and then pressure washed according to use instructions.
Deco-Strip sealer stripper was applied with a sprayer to another large section. The section was then scrubbed with an electric floor scrubber to loosen acrylic layers and then pressure washed according to use instructions.
Aro-Peel Decorative Concrete Sealer Stripper Test
Aro-Peel's controlled blanket application strips decorative surfaces of aged, chalky or faded sealers without pressure washer, accidental splatter, or the creation of hazardous waste. This is best for areas against a house where splatter can cause problems. The test area was next to the house, and was applied in direct sun in an area with little to no wind.
The surface was swept clean of debris, and the crew cut and shaped the blanket to fit the test area. The Aro-Peel was rolled onto the blanketed surface until the fabric was fully saturated and had turned translucent. Special care was taken to saturate all valleys, joints and ridges on the surface until the surface texture was visible through the fabric.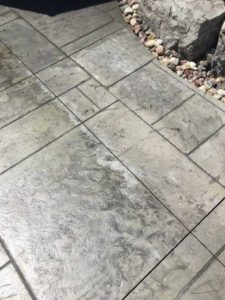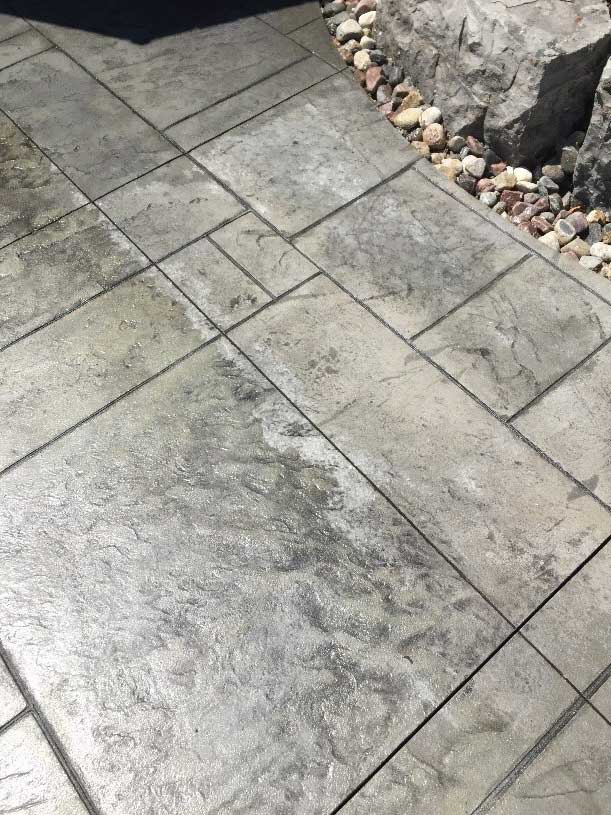 After 3.5 hours, the blanket was peeled up to check for evidence of acrylic and to ensure that the surface wasn't slimy. This is an indicator that the acrylic is still softening and has not absorbed into the blanket. Once the blanket had dried, it was peeled back and placed into garbage bags for proper disposal.
Aro-Peel successfully removed all five layers of acrylic sealer in this test. However, it must be cautioned that a second application with fresh blanket may be required to remove this many layers of sealer.
Pressure Washed Deco-Strip Test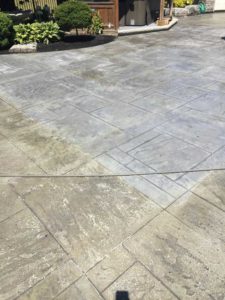 A large section of the pool deck was swept clean of debris, then Deco-Strip was roll-applied and allowed ample dwell time to penetrate all the way through the acrylic sealer. Multiple light coats kept the Deco-Strip wet until the acrylic had been softened. Dwell times generally range from 30 to 90 minutes depending upon thickness of sealer to be removed and application rate of Deco-Strip. When the sealer was soft all the way through, it was time to remove with a pressure washer.
With five layers of sealer, this method was difficult. In this test, the traditional way to use Deco-Strip required a lot of water, gas for the blowers and also took a long time. If the patio had two to three light coats and was smaller—this would be an acceptable method. The test did resolve the problem, but it was decided to use another method to reduce the man hours required.
Electric Scrubber Modified Deco-Strip Test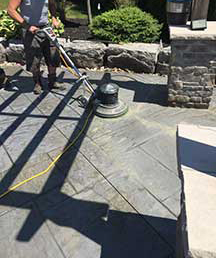 A modified application test used a sprayer to apply the Deco-Strip to a large area. The Deco-Strip was allowed to sit for 3 to 5 minutes. The crew then moved the floor scrubber onto the wet product and started scrubbing in a circular direction using scrubbing pads.
The scrubbing pads were replaced every 3 to 4 minutes. To remove 5 layers of hardened acrylic, 3 pads should be used in a cycle pattern: using one, cleaning one and holding one on standby.
Once the scrubber operator and machine had moved to a new area, the previous area was lightly pressure washed to direct the stringy/sticky bubble gum-consistency old acrylic residue into a "rope" line. Larger pieces were scooped up with a shovel.
This modified method shortened the required time by 80%. The stamped concrete was successfully restored back to original unsealed condition. Natraseal LVOC acrylic sealer was used to finish the project. UV inhibitors will prevent yellowing over time, and the homeowner can expect a sealer lifetime of up to five years.