Transform Your Concrete with Sparkl-Seal E, Our High-Gloss, Low VOC Water-Based Decorative Sealer for Stunning Interior and Exterior Decorative Concrete Surfaces.
In states with low Volatile Organic Compound (VOC) regulations, the demand for environmentally responsible solutions has grown significantly. This shift towards eco-friendly practices has given rise to a specific need for water-based, high-gloss decorative acrylic concrete sealers. These sealers offer a unique combination of aesthetic enhancement and compliance with stringent VOC limits, making them the go-to choice for those seeking to elevate the appearance of their decorative concrete surfaces while prioritizing the health of applicators, occupants and the environment.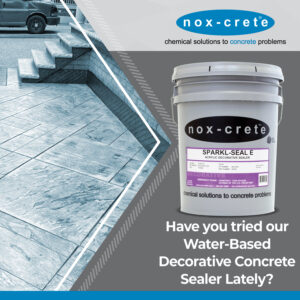 One of the primary advantages of water-based, high-gloss decorative acrylic concrete sealers lies in their ability to create a captivating wet-look finish. This wet-look effect adds a sense of depth and dimension to the concrete surface, enhancing its color, visual appeal and providing a luxurious shine that mimics the traditional solvent-based acrylic sealer appearance while being eco-friendly.  Whether it's a commercial space looking to make a lasting impression on customers or a residential property aiming to revitalize living areas with concrete floors, the beauty of a water-based concrete sealer is that it can also be used in interior spaces. The wet-look finish achieved with these sealers brings an undeniable charm that transforms ordinary concrete into a stunning focal point.
NOX-CRETE's Sparkl-Seal E stands as a testament to the capabilities of water-based, high-gloss decorative acrylic concrete sealers. This innovative product not only meets the strict VOC regulations in low VOC states but also delivers exceptional gloss and sheen to decorative concrete surfaces, it is not flammable, does not contain a cancer warning and doesn't include a hazmat fee in shipping. By utilizing advanced acrylic technology, Sparkl-Seal E offers a better working time than traditional solvent-based sealers and results in long-lasting protection against the elements while intensifying the surface's natural colors, making it an ideal solution for those seeking to accentuate the beauty of their concrete while adhering to environmentally conscious practices. The union of environmental responsibility, aesthetic enhancement, and superior performance makes water-based, high-gloss decorative acrylic concrete sealers like Sparkl-Seal E an essential component of modern construction and design in VOC-restricted states.