When one of her customers wished they had an eraser for an acid stain gone awry, Emily Reese with PNW Polishing in Puyallup, Wash., had an even better tool— Nox-Crete's Acryl Pen.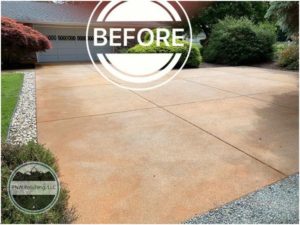 Reese was approached by a customer who topped a partial aggregate, broom-finished sidewalk at a residence with an acid stain. Upon completion, the stain turned a displeasing shade of orange. Reese was dispatched to fix the color issues.
"After hearing about the deep pigment of the sealer, we knew we needed something really penetrating and resilient," Reese said. "Acryl Pen was that solution."
The result, a much more calm and collected shade of Acyl Pen's "Charcoal Gray," covers up the entire history of the acid gone awry, shown in Reese's "before" and "after" photo sets. The pictures speak volumes for the magic that Acryl Pen can perform. But so can Reese.
"We at PNW Polishing have accomplished our first of hopefully many projects using Acryl-Pen by Nox-Crete," she said.  "It was extremely user-friendly to apply and was not overly labor-intensive. Spray and back roll. We will certainly use this product again! It's a quick but resilient transformation, and the color selection is also a good variety to fit every customer's desired look!"